Building on decades of experience, the redesigned OTT PLS 500 retains key elements of the trusted, robust, and reliable OTT PLS, while enhancing the sensor to be more intuitive and user-friendly.
The OTT PLS 500 includes built-in QA/QC and metadata to verify sensor performance and validate your data remotely, giving you confidence that your measurements are accurate.  To alleviate the time-consuming challenges seen with traditional pressure level sensors, we implemented a variety of smart sensor features:
Data Processing: Internally convert high frequency (4Hz) measurements to statistics such as computed averages.
Discharge Calculations: Automatically calculate discharge from either a user defined rating table or ISO 1100-2 exponential formula set-up via SDI-12 commands.
Position Sensor: Remotely monitor probe movement in the field with an internal inclinometer, enabling warnings due to in-stream events.
Internal Humidity Sensor: Automatic status flags or direct humidity measurements to help you understand if condensation has formed, impacting pressure measurements.
Compare OTT PLS Models
Compare communication, measuring range(s), power, and more of OTT PLS and OTT PLS 500 models.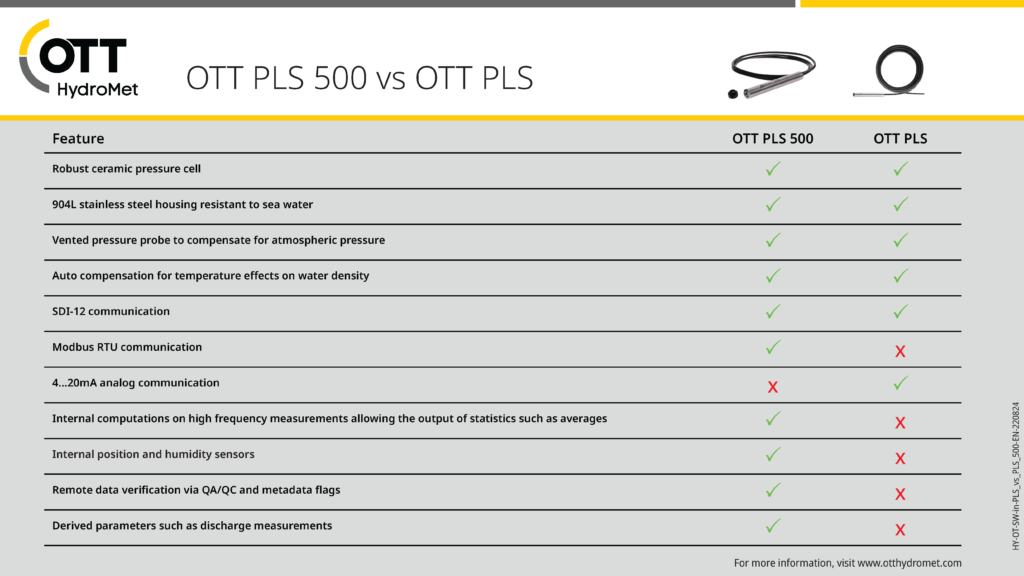 Check out the brochure to learn more. Click on the PDF window and use the arrow keys to navigate through the document.
Interested in learning more? Contact an OTT HydroMet expert today for information on the PLS 500 and other full solution monitoring options for your next project.