On the recommendation of the Russian partner, the Hydro-Meteorological Center of Russia in Moscow recently installed an automatic weather station equipped with Lufft sensors. The implementation phase took place in winter 2018/2019.
The compact weather sensors WS500 and WS100 included in the station deliver information on air temperature, precipitation type and quantity, wind direction and speed, relative humidity and air pressure every ten minutes. The data are publicly available on the Center's homepage. It provides Moscow residents with detailed information about the current and past weather and is quite popular.
"The Lufft stations are distinguished by their advantageous price-performance ratio, ease of installation and operation",
confirmed the project manager.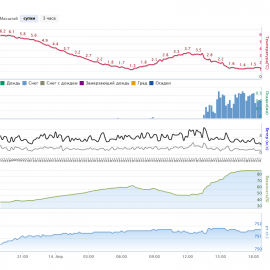 The first image shows sections of the evaluation diagrams. The black-grey graph shows the average wind speed on the grey curve, while the black curve illustrates the maximum wind speed in gusts every 10 minutes. The wind direction (from where the wind blows) is indicated by arrows below. The diagram with the green line indicated the precipitation in mm issued every 10 minutes.