In winter 2015, the Road Maintenance Depot in Offenburg (TBO) equipped their fleet with the first mobile road sensor MARWIS to improve the winter service. Since then, their number has steadily increased. But how many are there in the meantime and what tasks do the smart helpers fulfill? The TBO operations manager answers these questions in the following article…
In winter 2015, we equipped our fleet with the first mobile pavement sensor MARWIS to improve our winter service. For this first application in Offenburg, we integrated the innovative sensor into the existing monitoring software "TraceMate" from blueworld, based in Cologne, Germany. It displays the MARWIS data in matching colors on a map.
During the daily operations in the first winter, the new achievement proved to be a great support: On the one hand, MARWIS helps us to identify critical spots on the pavements. Thus, we are able to determine the respective salt spread requirements more precisely and selectively and can simultaneously reduce the salt amount which is beneficial for the environment. On the other hand, it automatically provides us with protocols proving that we have fulfilled our winter maintenance tasks.
The first winter with the new tool convinced us to equip our fleet with additional MARWIS devices.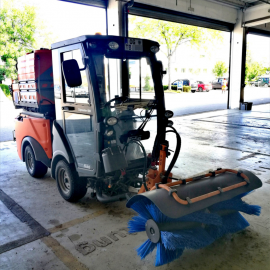 Meanwhile we operate 11 MARWIS units on all kinds of vehicles – from small sweepers and passenger cars to large spreaders. This enables us to cover not only normal roads but also bicycle paths and footpaths. Generally we react as soon as the sensor issues a value below 3 °C. Then, we drive out with the salt spreaders and apply exactly as much de-icing agent as necessary!
Since different vehicle types require different mountings, our own workshop took care of the installation. Our mechanic found solutions to mount the sensors stably, e.g. on the sweeper, but they can still be removed easily. On the Unimog, for example, we attached a small carrying element to which the MARWIS protective housing can be screwed.
We have also been responsible for city buses for local public transport in Offenburg for a short time. This could result in a new field of application for the new sensor technology – especially when it comes to collecting big data and using it, for example, for weather forecasts. We are thinking of a project with a weather service…
Would you like to learn more about the MARWIS application areas or request a quotation?