Bifacial photovoltaics may not yet be mainstream, but definitely on the rise. Ask the people in Solar Industry and they will tell you that bifacial photovoltaics is the way to increase the efficiency of Solar Plants and therefore boost solar energy production globally.
However, as long as the world-wide solar industry has not agreed on methods for simulating and measuring energy output, you will find that some will claim a much higher increase of plant efficiency through bifacial photovoltaics than others. This variation in predictions is based on the following factors:
The system set-up and module geometry
The material of the back sheet
The impact of ground albedo
The methods used to simulate and measure solar irradiance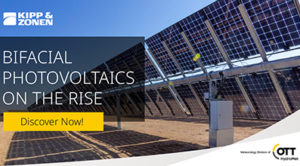 In order to help establish a more precise method of predicting the actual efficiency increase it is essential to have a large data base on module performance. In our guide you will find an overview on current research in the field of bifacial photovoltaics, and also on the research we did ourselves. We added information on the technical developments and we listed some relevant questions that are still unanswered.
Do you want to know more about current trends and research on bifacial PV? Download our guide and find the research overview.